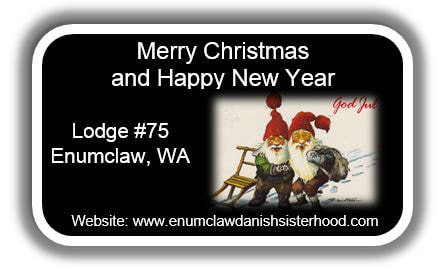 ---
Our charming Danish Hall is available for rent!

---
We are looking for new members to join lodge #75!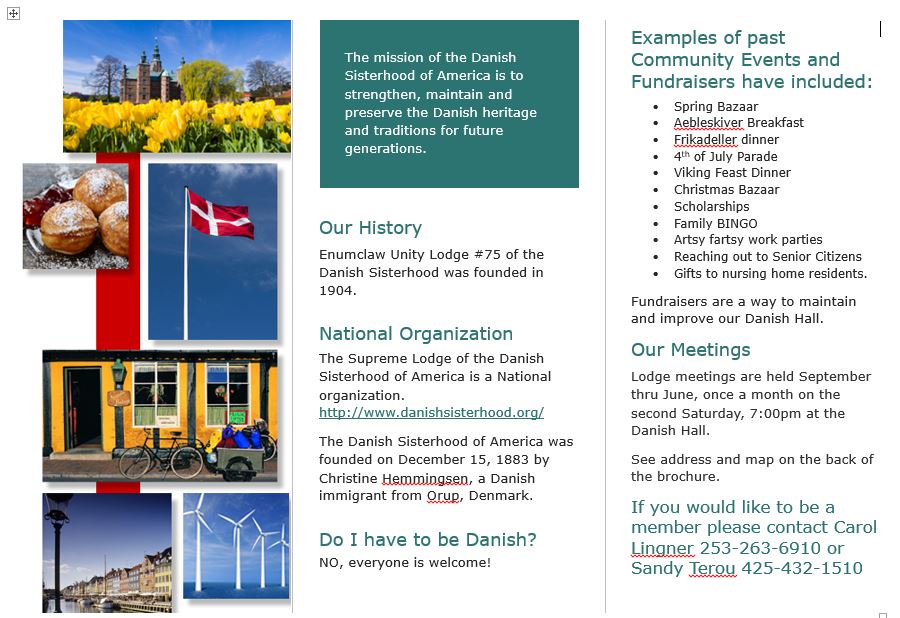 ---
Your support of our events is making a difference.
Thank you for your support!
New exterior siding on the south side of the building Sept 2019.
Link to newspaper article
.
---
March 28th 2020 - Aebleskiver & Bake Sale!

Time: 9:00 am - 1:00 pm
Come join use for a wonderful breakfast consisting of traditional Danish pancake 'Aebleskiver', sausage, applesauce and beverage.
Price: Adults $xx Children $xx
Also for purchase, we will have a bake sale, full of yummy home made goodies, donated by our members.
Presented by the Enumclaw Danish Sisterhood. Fund raiser helps maintain our historic Danish Hall.

---
Spring 2020 - Talent Show

Time: xxx
Come enjoy an evening of amazing Enumclaw talent. A fun evening with snacks available. Date to be announced.
Presented by the Enumclaw Danish Sisterhood.

---
May 16th 2020 - Spring Bazaar

Time: 9:00am-4:00pm
Free Admission.

Come see what's for sale at the spring bazaar!
Plants, yard art, vendors and more...
A delicious lunch will be available for purchase from 11:00am-1:00pm..


---
Sept 2020 - Viking Feast!

Announcing the 9th annual Viking Feast!!!!
Join us for great food, fun entertainment and lots of DRINK!
Menu featuring whole smoked pig prepared by Award Winning Olsen's Meats!

Time: 5:00 pm social hour and 6:00pm dinner
Price: $xx per person

To purchase ticket - Please print the form below (coming soon), fill in your information and mail it with your check to the address on the form.

---
Nov 14th 2020 - Enumclaw Holiday Bazaar

Time: 11:00-2:00
Admission is free.

Come check out our hand made items for sale.
There will be a raffle to try your luck!
Homemade bake sale items will be available for purchase, donated by our members.
Stay and have lunch. See menu below in flier
Price: each item is individually priced.
Presented by the Enumclaw Danish Sisterhood.

---